Class Administrative Tools
Display Class Records/Edit Login
Description: A set of Class Administrator Tools is now available for authorized Alumni to use for editing records pertaining to their Class Year. A login user name and password are required. Contact the webmaster if you would like to be or already are an Administrator of alumni records for your Vocational class year. 
When a Class administrator logs in using the above form (click on the image to log in) - They are taken to their Class Administrator Tools page as illustrated below for the Class of 1964.  Note: this image is outdated but illustrates some of the tools available to class data administrators.
Class Administrator


Tools Menu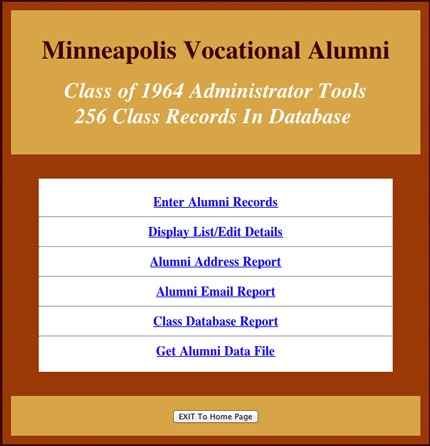 Description: Entering Multiple Alumni Records is easy and is facilitated with a special form that allows the entry of each Class Year.  Your class has the opportunity to assign one or more Class Administrators who will be given the privileges to bulk add, edit or delete records from their class year.  Again, this allows easy transfer of Class Alumni data in which the same data cannot be electronically imported.
A formatted Alumni Address report, Email report and other reports are also available to the Class Administrator.  With the six tools presented above, Alumni Class Administrators can easily manage their own alumni data.  These tools include the ability to download all class data in a TXT/CSV data file for use with Excel and other spreadsheet tools. This data file allows easy creation of class labels, envelopes, mailers, etc.
IF your class data is in tab delimited or comma delimited form, it can be imported electronically into our All Alumni Database for Minneapolis Vocational Alumni.  Use the feedback form to contact the webmaster (Ed) to find out if your class alumni data can be easily imported or whether it has to be entered using the above form.
Contact Ed to join a growing list of Class Administrators if you are managing your Class Year Alumni Data.
Note: If you would like to volunteer to enter Vocational Alumni Data for various class years, please contact us using the Feedback Form.